For some time we had this dream of, say in ten years or so, being partially self sufficient: home grown organic produce, a few free roaming chickens in our yet to be decided location (of course by the sea) and ending the day sipping a cold brewed cider (from our orchard, watching the sunset). 
The dream was rapidly shattered by two weeks spent volunteering at a small, family run organic farm in Northern Thailand; sometimes what one needs is a reality check. This way of living we shared is brutally demanding, often made of repetitive daily chores at the mercy of the elements (Thailand has a monsoon but luckily not a British winter). In our thirties, not born into farmer blood lines but appreciative of a good organic store and local veg box – what we lacked in skills was made up with efforts, blisters and a few profanities under our breath. 
---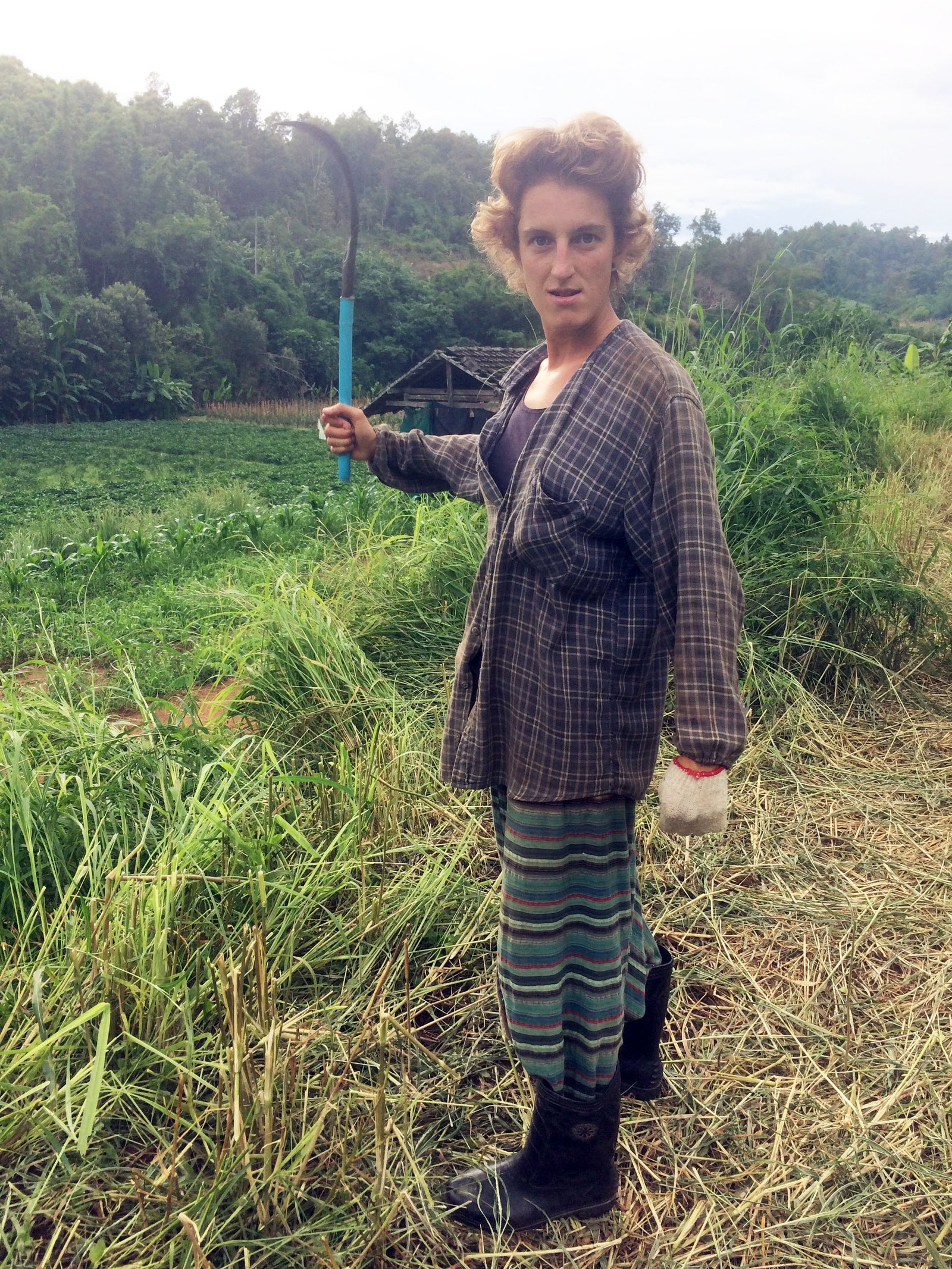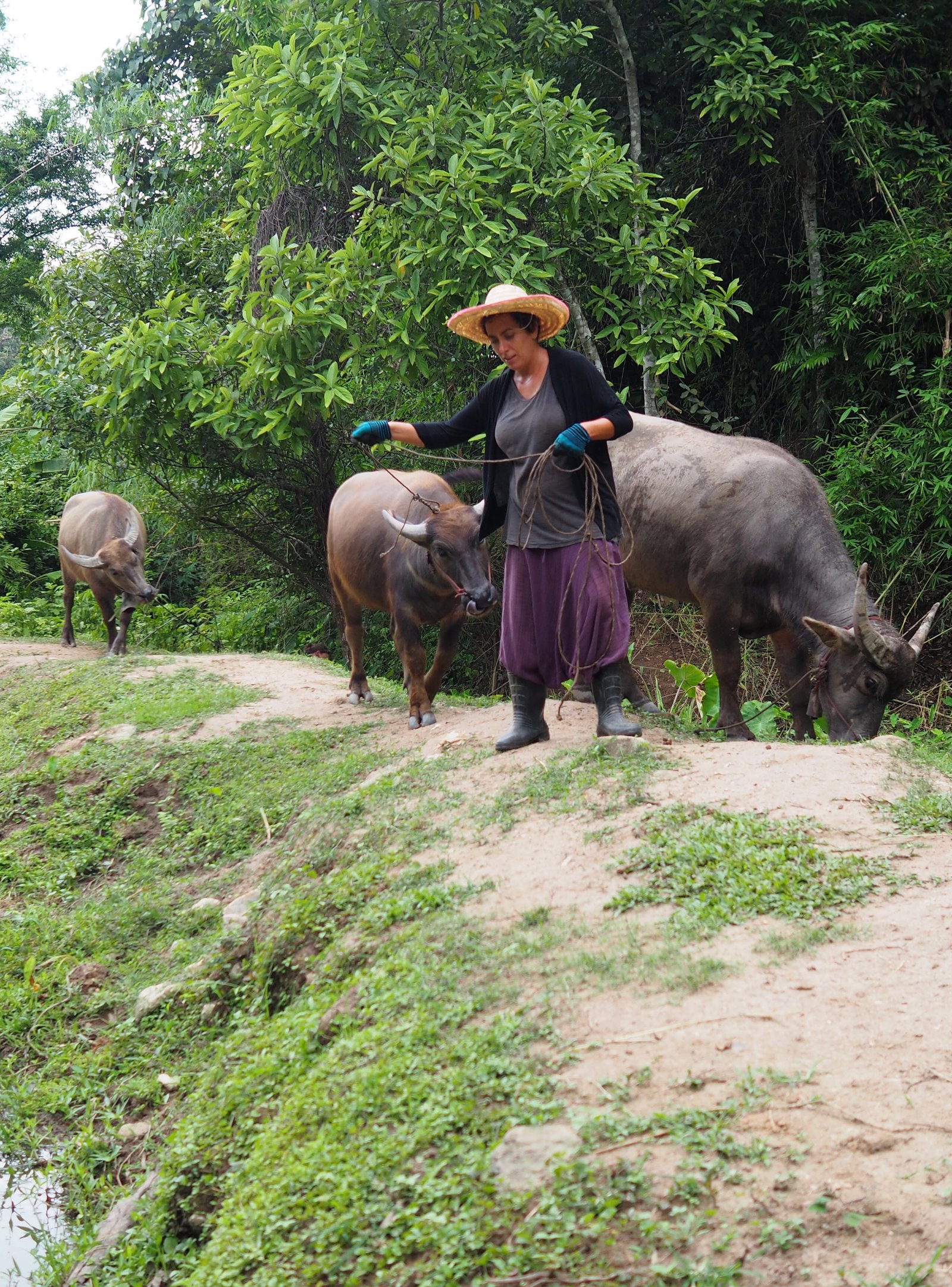 All the gear with no idea
The Pinaans* are born for it. They are living proof of harmony in nature: all food consumed is grown from their land, hand picked and cooked with love. Generations of their family working the land in the same way: with the least impact and little use of machinery, instead preferring traditional farming techniques and methods. Pinaan Jim learned from his father, the local medicine man, how to treat illness and disease using local and natural herbal medicine as well as Lanna and Buddhist healing practices including mantra, diet and exercise, lifestyle advice and prayer. 
Pinan Jim or as we named him 'Captain Jack Sparrow' is a quirky character, with a lot of lives under his belt (ex-Buddhist monk turned Jimi Hendricks evolved Muay Thai boxer), never fails to add entertainment to the remote mountainous jungle in the form of inpromptu songs, spontaneous teachings and insights into Lanna culture.
The Happy Healing Home land bears plenty of native herbs and plants that become powerful  medicine under the passed down knowledge of the Pinaans. We also consumed a few of these transforming our food into delicious medicinal meals.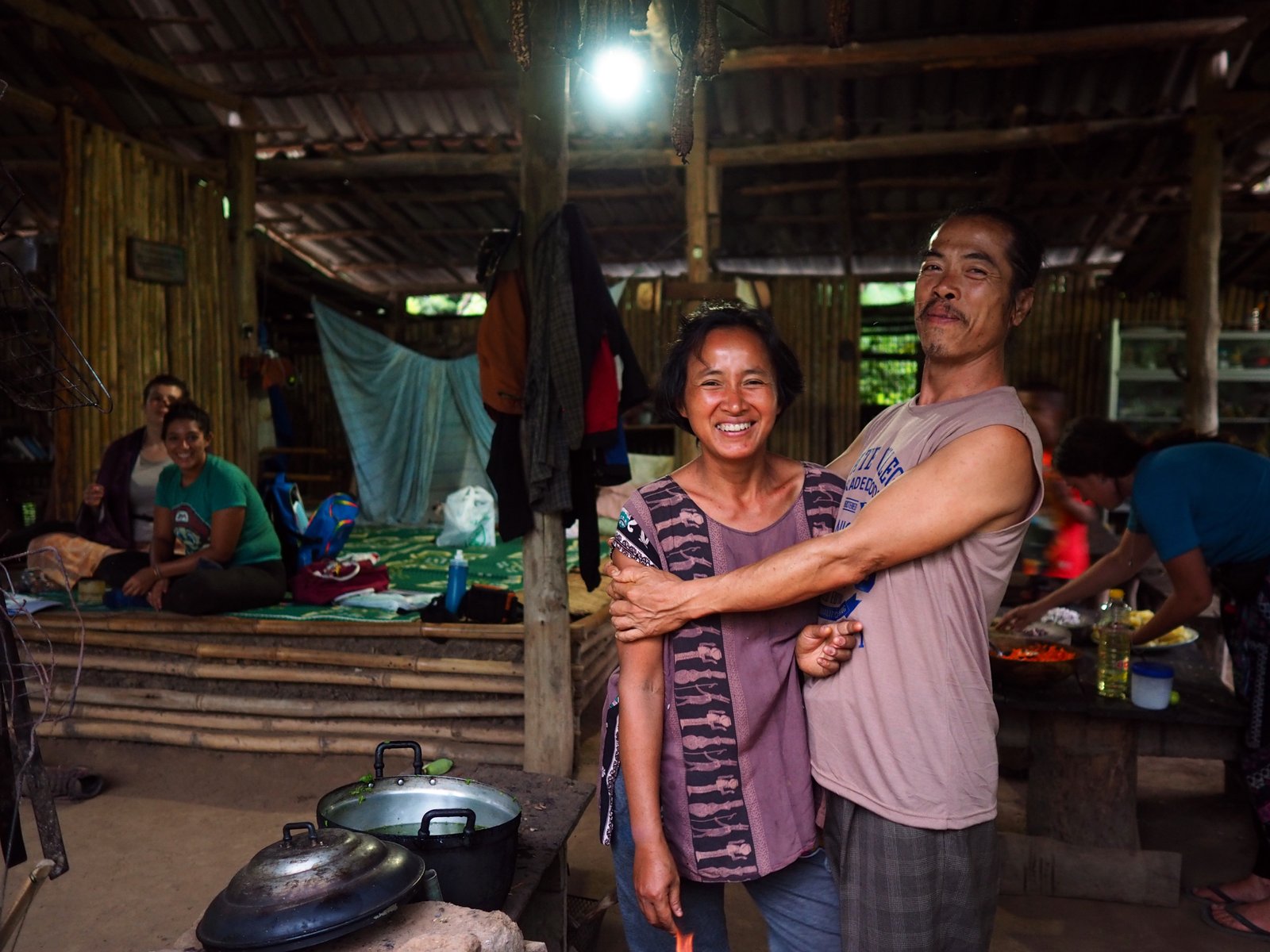 Lessons learnt from volunteering here:
We have lost touch with the source & process of where food comes from. The amount of work and resources needed for food to grow in a sustainable way became painfully obvious when we participated in the cultivation of rice. One rice field (which would feed the project and all its many guests roughly one year) took 3 days and 10 unskilled volunteers sow the seeds. This main staple is only grown here once a year: sown in June, harvested in November and the field left fallow for the remaining year. This is a conscious choice to allow the soil to regenerate ready for next season, as well as preventing the use of vast amounts of water and machinery (pumps) in the dry season. We were told that farmers in the area who grow for commerce, are in heavy debt from the seed suppliers who annually increase the cost of seeds and pesticides despite the crops' yield remaining the same. In this setting, rice is grown all year round slowly exhausting the natural resources.
Even locals are losing the connection with what grows naturally and choosing to shop at markets where products are aesthetically pleasing. Most of what we ate here wouldn't pass the supermarket polished looks test, but tasted delicious and with intact nutritional value (no early picking, no transportation, false ripening and the Pinaans don't own a fridge).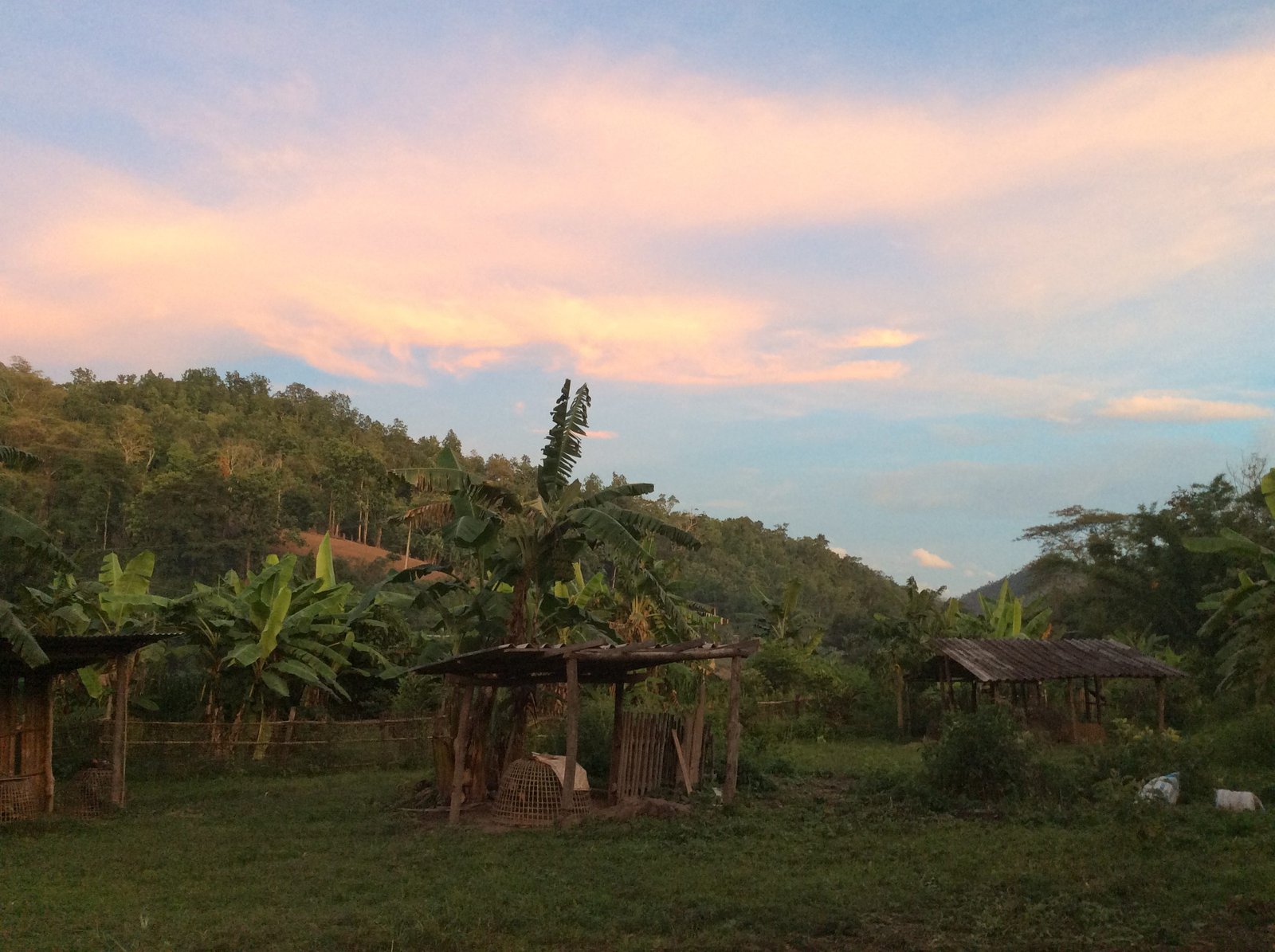 Sunset over the chicken pens
Volunteers are a vital part of this whole project and there is a minimal charge of 200 bhat (£5) daily which includes very basic accommodation, three delicious abundant meals as well as the opportunity to learn any skills that the Pinaans possess. Any extra support to the Happy Healing Home is gracefully appreciated and will be used wisely and ethically, supporting a way of living that is rapidly disappearing but so necessary in these times.
We were inspired by how little rubbish was produced, how resourceful the project is and how minimal the contribution towards carbon footprint. We lived with very little electricity, making the most of daylight and therefore closer to natural rhythms.There is something to be said about physical labour and its effects on mind and sleep. Once we became accustomed to our reluctant farmers' routine, we didn't miss nor need the stimulation that we might normally crave. 
This experience has made us more grateful for the abundance the earth, when looked after and respected can yield. Our initial dream has evolved to a more realistic perspective: a small allotment, a keen desire to support local farmers and make conscious decisions about where to purchase our food. 
We are planning on returning for a longer period to create a cookbook with Pinaan Tea and all her delicious healing recipes and study the medicinal properties of Thai herbs and plants with Pinaan Jim.
---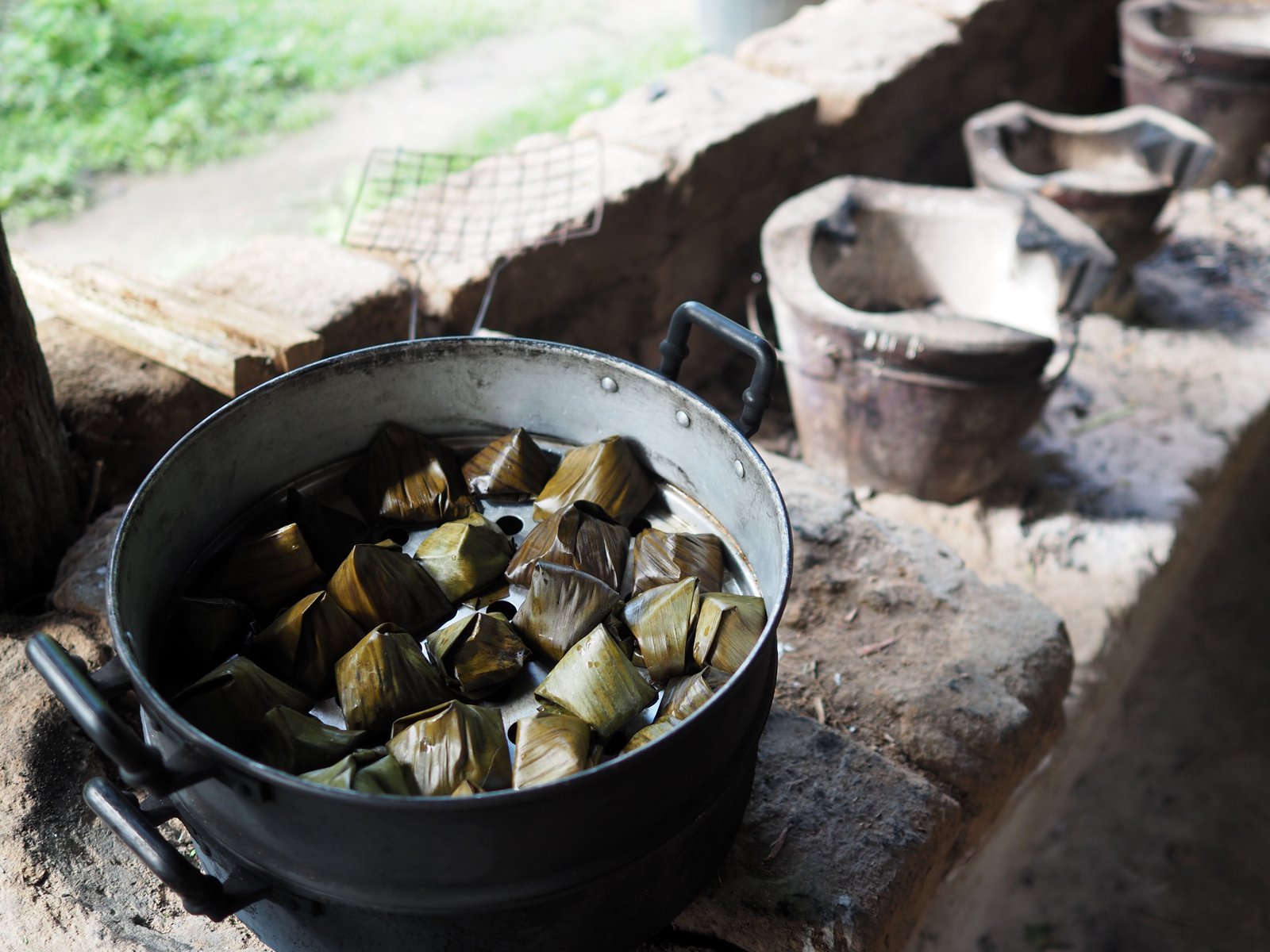 Learning to make Lanna bread
---
* Pinaan is the respectful way to address someone before their names. So we were Pinaan Giusi & Pinaan Rebecca. Quite literally translated as 'nice and kind Giusi/ Rebecca'.
VOLUNTEERING PRACTICALITIES
---
Happy Healing Home Website + Facebook Page
When: They take volunteers all year round. 
How much: 200 bath per day (2017)
How to get there: Directions here. At the bus station in Chiang Mai, the driver will know where to drop you off if you mention Happy Healing Home.
What to bring: old clothes you don't mind trashing (they have plenty of wellies for the field's work). Mosquito repellant. A torch. Books (can be donated  to the small library once read). Cash (there are no nearby ATMs). An open mind and keen to get your hands dirty!